Healthcare Library

Exercise is vital to living a healthy life and losing weight. If you exercise regularly, you are more likely to sleep better, get sick less often, have more energy, and experience a host of other benefits in your physical and mental well-being. In the process, you will grow stronger, gain stamina -- and may even enjoy it!
Exercise is especially important if you are trying to lose weight:
To lose weight, you must burn more calories than you eat. Exercise is the best way to do this.
When you exercise regularly, you build stronger muscles, even if you do not work out with weights. Muscles use more calories than fat throughout the day, even while you are resting. This contributes to what is commonly called a "faster metabolism."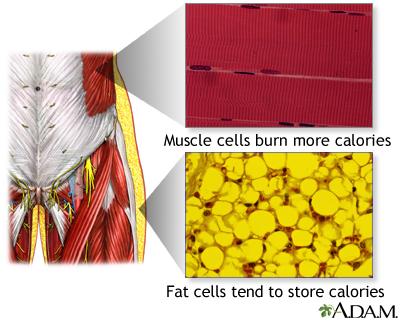 Any increase in physical activity will have a positive impact on your health and your efforts to lose weight. It does not have to be formal exercise. Raking your yard or cleaning the house can qualify, if you do it long enough and with enough intensity.
If you are considered obese (your BMI is 30 or higher), start with a low- or no-impact activity such as swimming, walking, or cycling. High-impact activities (such as running, dancing, and most team sports) put more stress on your joints, which can significantly increase your risk for injury. If you like high-impact activities, ask your doctor if they are okay for you. As you lose weight, you should be able to engage in these more strenuous activities.
Speak to your doctor before you begin, especially if you have any of the following conditions:
A heart condition, angina (chest pain), high blood pressure, or high cholesterol.
Any serious medical condition like diabetes, asthma, emphysema, chronic bronchitis, cancer, or a history of blood clots in your legs or lungs.
Pain or pressure in the chest, neck, shoulder, or arm during or right after activities such as walking.
Bone or joint problems, including arthritis or osteoporosis (especially arthritis that has flared up, so that one or more of your joints is red, swollen, or painful).
Also, see a doctor if any of the following apply to you:
You are over age 40 to 45, and have not been active.
You smoke.
You feel very breathless after mild activity.
You tend to get dizzy, lose consciousness, or are subject to falls.
You have experienced a feeling of your heart racing, skipping, or fluttering.
You have had recent surgery.
You have an active infection or fever.
You are experiencing any other unusual symptoms, such as unexplained weight loss
How do you get started?
If you do not currently exercise, the first step is to choose an activity and a "start date." Choose an activity (or several activities) with which you are comfortable. Many people start with walking because it is convenient, inexpensive, and easy. If you prefer, take a dance class, play catch with your kids, or find another activity that fits with your life.
Once you decide what you will do and when you will start, practice your activity. That is, go out and do it one time. At first, don't worry about how you will fit the activity into your daily life -- just be proud of what you did. And no matter what you choose, start slowly.
As you increase your fitness, increase the time you spend exercising each day, as well as the intensity. Building up slowly is the key. To lose weight, your ultimate goal should be to get a total of 60 minutes of physical activity equivalent to brisk walking each day. But, you are not going to get there in just one day. Remember that any amount of activity or exercise is going to help reduce your waistline, especially if you are starting from a sedentary lifestyle.
Plus, physical activity does NOT necessarily have to be aerobic exercise. The goal is to burn calories, and you can do that countless ways, such as using the stairs instead of the elevator, parking your car in the farthest parking space, mowing the lawn, or gardening.
If you are doing an activity that takes more effort than walking, like running, then 30 minutes a day should be enough. Or if you are doing something that takes about half the effort of brisk walking, like gardening, you'll have to do it twice as long -- 2 hours.
Having trouble doing your exercise all at once? That's no problem. Spread it out throughout the day in 10 minute chunks of activity. Doing this 3 - 6 times per day can still strengthen your heart and burn calories.
Once you are comfortable with your exercise routine, consider exercising with others, or adding different activities to keep it interesting. Remember, the important thing is that you get out there and do something!
Exercise tips:
Drink plenty of fluids before, during, and after you exercise to make sure that you stay hydrated. This is as true in cold weather as it is in warm weather.
Don't get discouraged if you miss a session -- just pick it up again the next day.
Outdoor conditions may impact how you feel while exercising. Heat, humidity, or pollution may make exercise harder. In these conditions, exercise indoors or during cooler hours.
Bored with your usual exercise routine? Meet a friend and exercise together. You may exercise longer or harder with another person than you would alone.
Everyone has good days and bad days when it comes to exercise. Don't let the bad days discourage you from going out in the future.
Use your imagination -- just about any physical activity can count as exercise.
Don't work too hard. If you cannot comfortably carry on a conversation while exercising, slow down!
| | |
| --- | --- |
| | |
---
Review Date: 6/28/2011
Reviewed By: Jeffrey Heit, MD, Internist with special emphasis on preventive health, fitness and nutrition, Philadelphia VA Medical Center, Philadelphia, PA. Review provided by VeriMed Healthcare Network. Also reviewed by David Zieve, MD, MHA, Medical Director, A.D.A.M., Inc.
The information provided herein should not be used during any medical emergency or for the diagnosis or treatment of any medical condition. A licensed medical professional should be consulted for diagnosis and treatment of any and all medical conditions. Links to other sites are provided for information only -- they do not constitute endorsements of those other sites. © 1997- A.D.A.M., a business unit of Ebix, Inc. Any duplication or distribution of the information contained herein is strictly prohibited.

A.D.A.M. content is best viewed in IE9 or above, Firefox and Google Chrome browser.